Merzouga is a small village in Morocco desert, its part of the desert and the famous village as there are many other village beside the dunes of erg chebbi, during your Morocco tour you can add a day or couple days to explore Merwouga desert area, all our Morocco tours include this city but must are with a single night but we can customize your holiday in Morocco to add more days to enjoy the Sahara desert.
Camel Trekking
During your desert tour, camel trekking is a must do to have a full experience in the desert tour, the shortest camel trekking you can do is for sunset or sunrise which take about 40-mins and the longest is unlimited as we do offer couple days camel trekking tours to cross the Sahara desert and go depth on it. Merzouga is a small part of the Sahara desert so more days means more time to go depth on the Sahara desert and explore it gems
Camel trekking is an adventure which takes you through the sand dunes of Merzouga desert so for full experience we recommend overnight in luxury camp with sunrise or sunset camel trekking.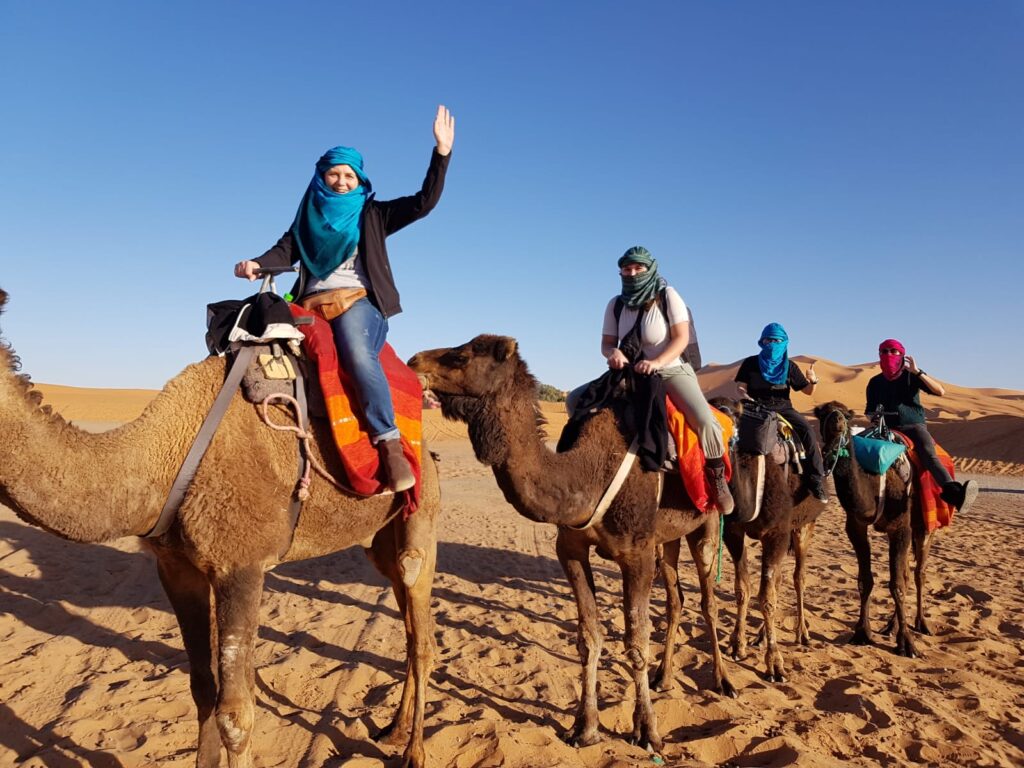 GLAMPING MOROCCO IN THE SAHARA DESERT
If you visit Merzouga desert without spending a night in the Sahara desert, it's like visiting Rome without seeing the Colosseum, or traveling to South Africa and not going on a safari. Glamping in Morocco is an incredible, possibly once-in-a-lifetime experience that absolutely should not be missed and very well might be the highlight of your trip.
While there are many desert camping/glamping experiences offered in Morocco, the best camps are located in the region of Merzouga near the Algerian border, within the powder soft, burnt orange sand dunes of Erg Chebbi. Deep in the dunes of Erg Chebbi lies Berber desert camps of kinds; from bare-bones and basic, to the ultra-luxurious. There is only one camp however, that combines luxury, 5-star services with an authentic Berber experience, and that is Dihya Desert Camp. WHY?  Not only that Dihya Desert Camp is the highest rated camp, but there are several aspects that make it a stand out experience.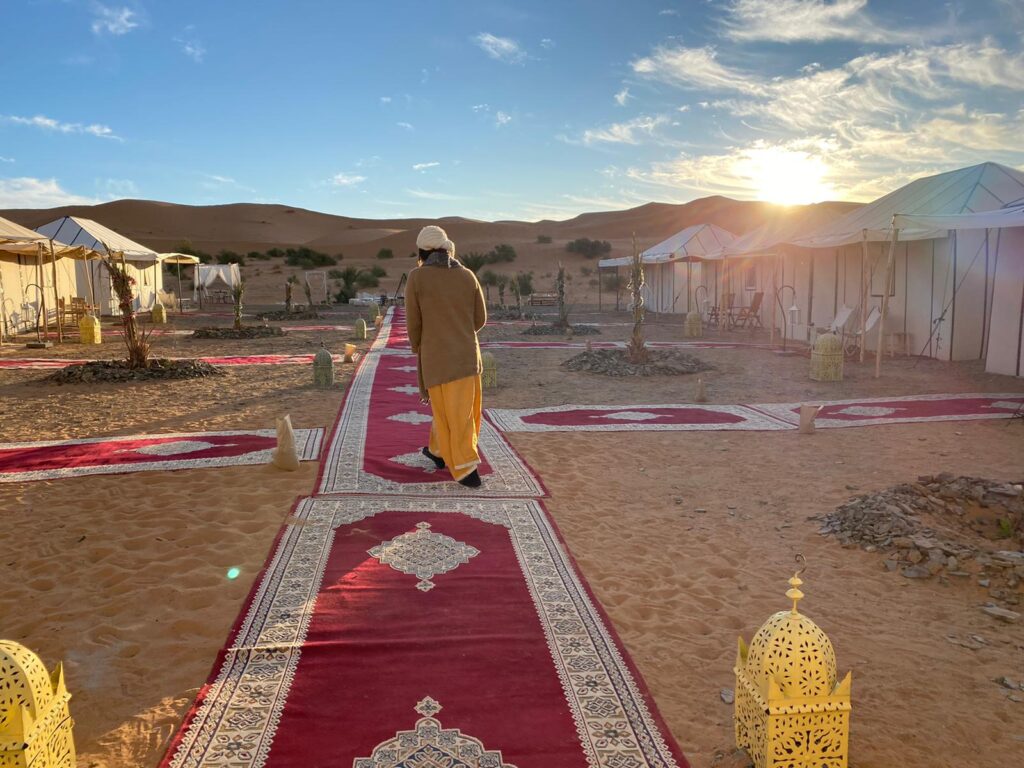 Lake Dayet Srij
Renowned for its wide biodiversity, Lake Dayet Sirj dominated by Erg Chebbi (Merzouga dunes) offers an exceptional panorama of a multitude of bird species including the majestic flamingos. Between November and May, you'll find this seasonable lake. It's one of the best areas in Morocco for spotting desert birds, including Egyptian nightjars, desert warblers, fulvous babblers and blue-cheeked bee-eaters, but in recent years the lake has been drier than normal.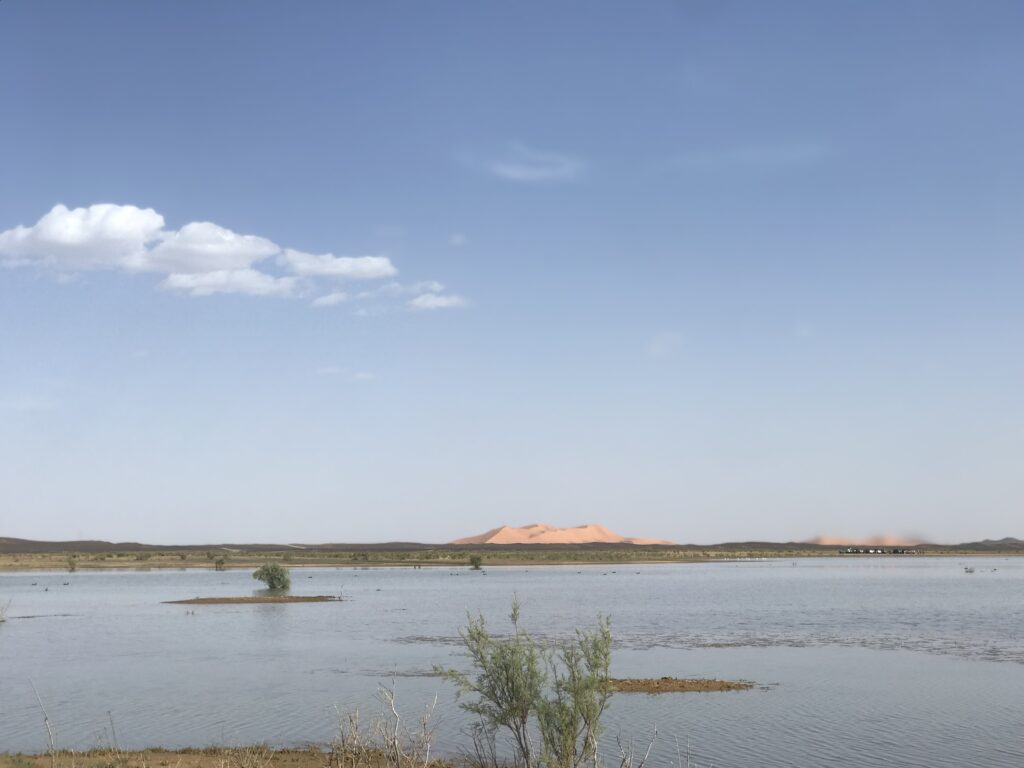 Sandboarding
Sandboarding in Merzouga desert is a must do during your Sahara desert tour. it can be practiced anytime, and it does not depend on any season.
Its is one of the best things to do in Merzouga desert, its wonderful way to explore the golden sand dunes of Merzouga Sahara desert in a funny way. Once in your desert camp you can enjoy it on dunes that is very close to the camp [the camp we include in our desert tours offer it for FREE and for unlimited time, it called Dihya Desert Camp]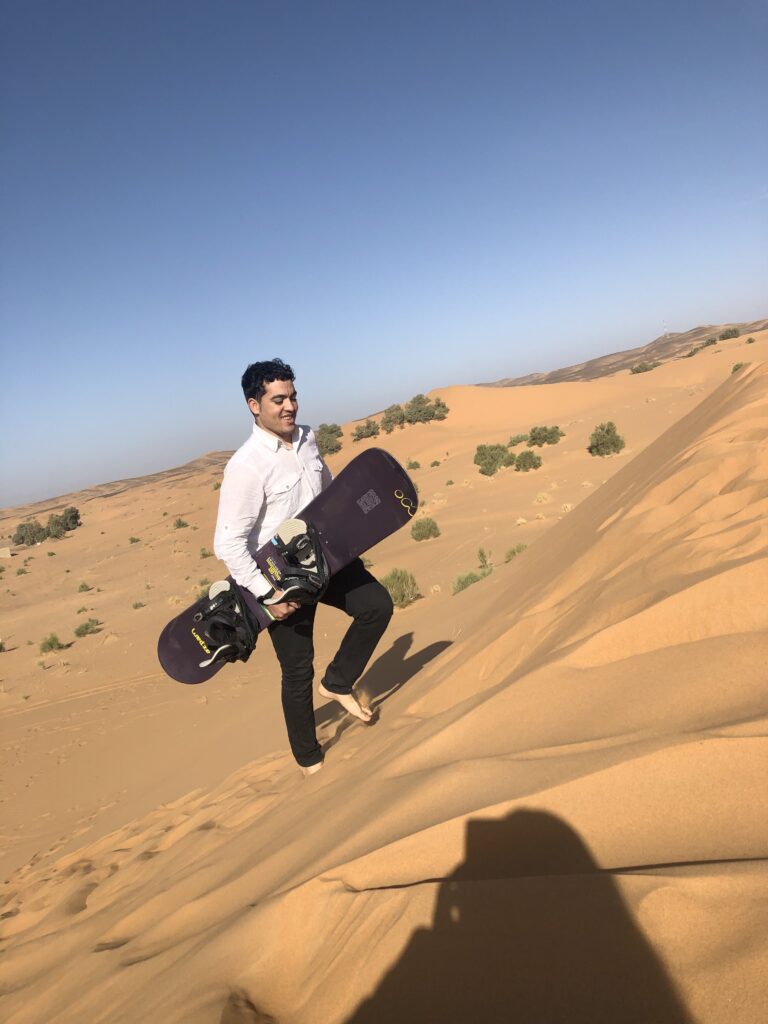 Gnaoua Music
Gnaoua music in the Sahara desert, in the hands of the Gnaoua tribe, is the essence of the place. The music is legendary from their ancestors, preserved from their original homeland and still played in a traditional manner.
Merzouga desert invites you to enjoy its hospitality, to have a cup of tea and to listen to the Gnaoua music, all while resting in an outstanding desert landscape, among the dunes and underneath a beautiful canopy of stars.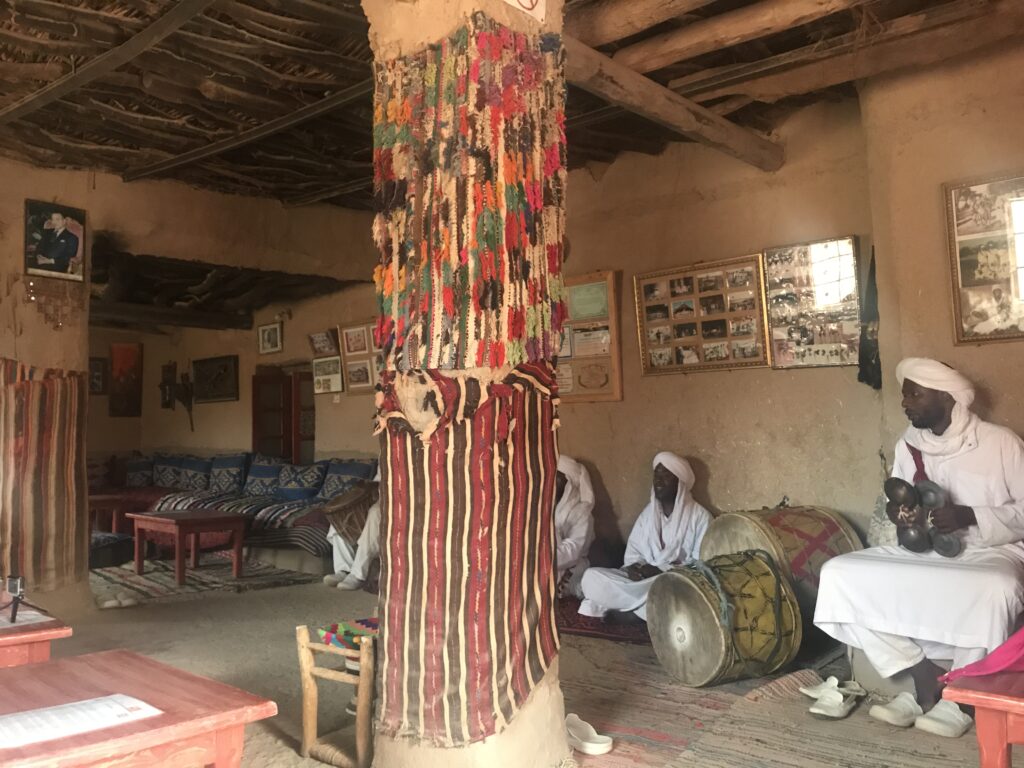 Campfire
Campfire in the Sahara desert is a great way to enjoy your overnight in the desert camp [Normal or luxury desert camp], must camps does offer this and includes it in the package but not all of them so be sure about this which is a great opportunity to listen to local music and watch the fully sky of stars, stargazing, milkyway… Dihya Desert Camp [real luxury camp does offer this for FREE]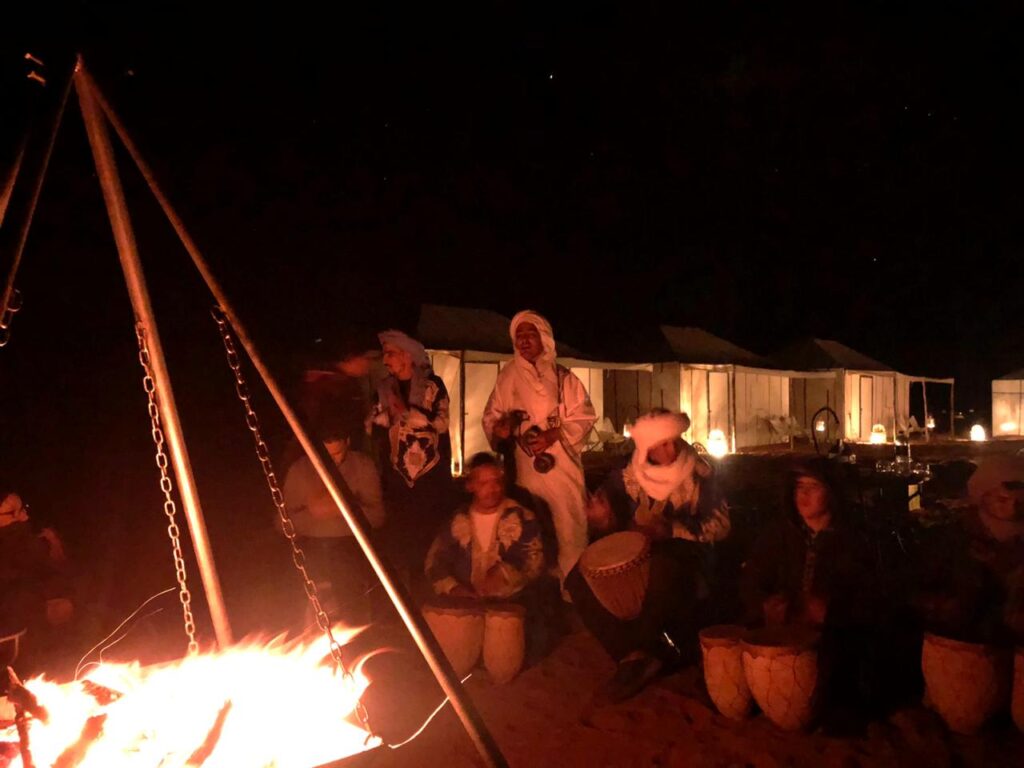 Quad bike and Buggy's
This adventure is one of the ways to explore Merzouga desert area or a way to enjoy the dunes by these 4wd quads or buggies. Professional or not, with family, friends, partner or alone you still can enjoy this as all companies that rent it offer you a guide that you're going follow… Merzouga desert excursion quad bike can be rented for one hour or for couple days which mean it depends on what you would like to have.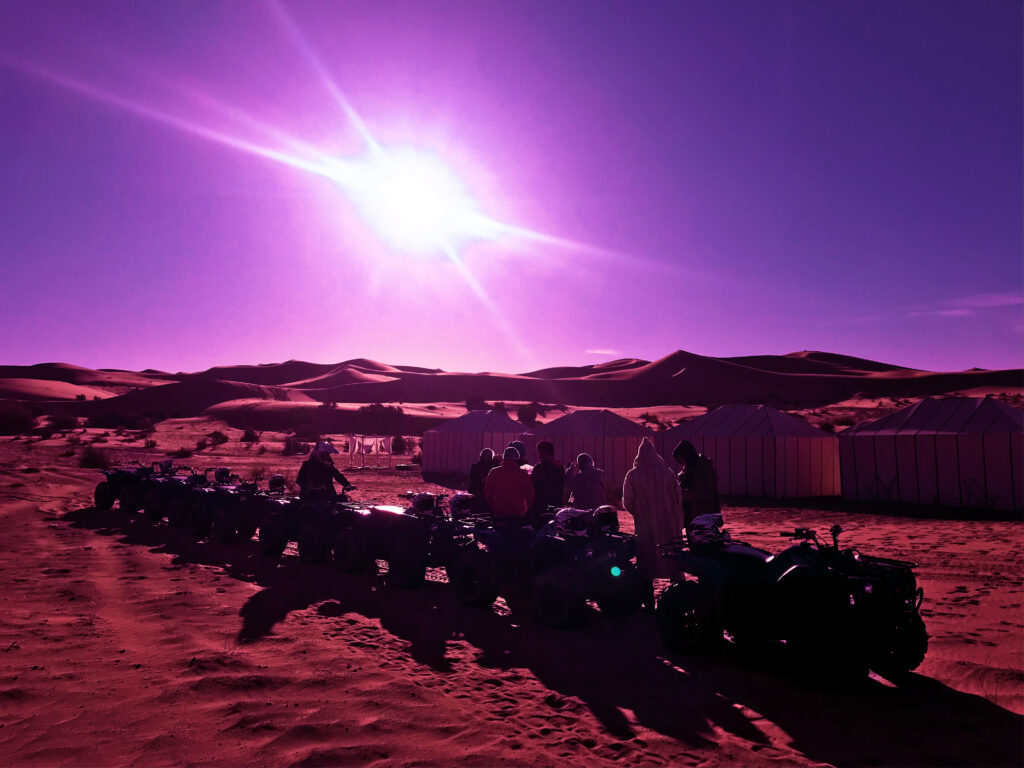 Morocco National 4×4 Auto Museum
Morocco National 4*4 Auto is a museum located in Morocco desert. It is a small museum, where you can see some used cars in desert region. Also, you can see some cars that are unique and special for this museum. Curious, especially some cars, which are too wide. Very interesting for car lovers.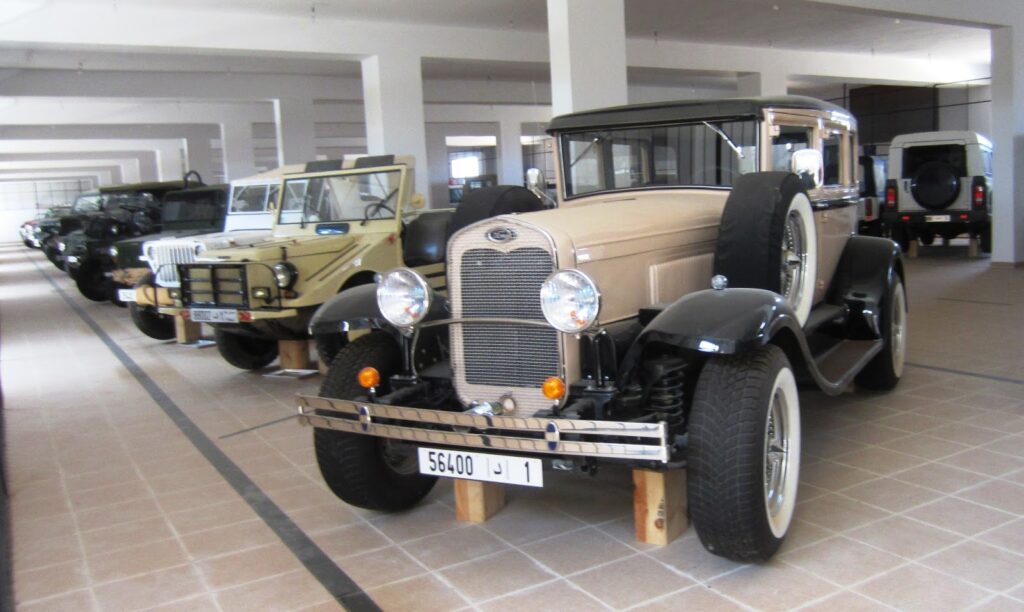 Sand Baths
Morocco desert sand bath in Merzouga, travelers are buried alive in sweltering hot sand in the name of health and wellness.
The connection shared by these treatments is heat — and using the earth's natural elements to heal the body and relax the mind.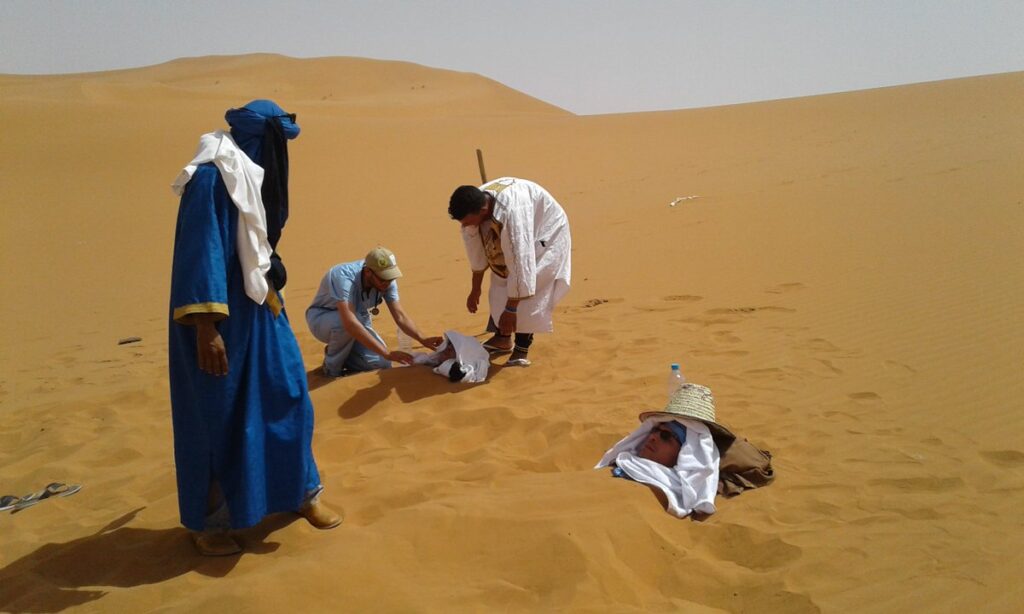 Sahara desert trip
Sahara desert trip is a day or half day in the middle of Merzouga desert, it start from your Camp or hotel and will let you discover Morocco desert in depth by visiting real nomads [where they live and how they do], drive off road to visit Gnaoua village, Lake dayt Sahrij, a small oasis, several stops for panoramic views too.